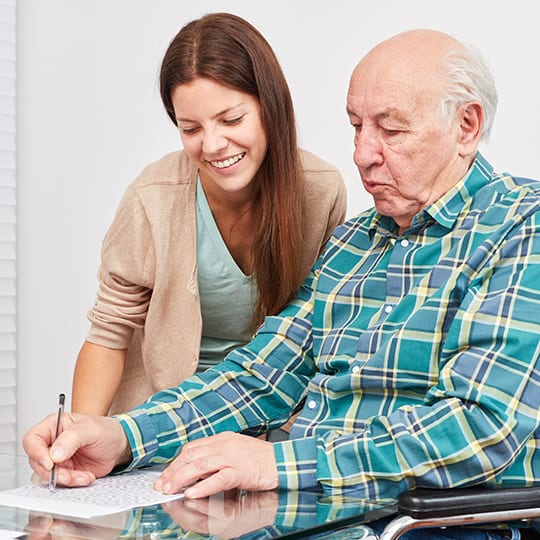 Quality Care Your Loved One Deserves
Living alone while dealing with cognitive decline can make life for your loved one incredibly isolating, challenging, and even dangerous. The Memory Care program at Sugar Loaf Senior Living is specially designed to help residents with cognitive impairments like dementia or Alzheimer's maintain their dignity and independence.
Our staff at Sugar Loaf undergo specialized training that gives them the proper tools and resources to care for residents with cognitive impairments and memory issues. All residents in our Memory Care program are given a home-like space where they can seek professional support in a safe, comfortable environment.
If you'd like to see what makes our Memory Care program a good option for your loved one, please contact us to schedule a tour today!
Professional Support & Compassionate Care
For our residents with cognitive challenges, we work exceptionally hard to help them maintain a sense of normalcy. We offer person-centered care with 24-hour staff to ensure your loved ones' every need is met.
At Sugar Loaf Senior Living, we take pride in being adaptable. If your loved one's needs change, our staff is trained to ensure their level of comfort and stability never does.
24-Hour Nursing Care and Support
We understand the importance of staying in the community even as needs change and increase. We offer cozy suites, which provide 24-hour nursing care and support in our home-like studio apartments so you or your loved one can get the support you need. These suites give you or your loved one full access to the skilled staff, services, and equipment necessary for various medical needs.
Identifying Level of Support
We want to make sure your loved one receives the care they need at Sugar Loaf. So, before joining our community, we'll have a qualified registered nurse meet with you to perform an assessment and identify exactly what your loved one will need. This includes:
Bathing
Dressing
Personal hygiene/toileting
Assistance eating
Medication assistance
Transferring assistance
Enriching Connections is a specialized program that our staff goes through to ensure they have the resources to properly care for our Memory Care residents. The program emphasizes 7 foundational elements:
Relationships & Community: Everyone is invited to belong.
Commitment: Our organizational leaders are actively involved and committed to providing incredible person-centered care.
Certification & Training for Staff: All management and Memory Care staff members are certified through the Alzheimer's Association and have completed additional and comprehensive training.
Services: Families and nursing staff work together to help create plans that promote individual preferences, independence, and dignity.
Meaningful Life & Engagement: Promote and maintain the best quality of life for our residents through our Inspire Wellness for Life program.
Environment: Our team is dedicated to making continual improvements so every Tealwood community is a dementia-friendly environment.
Accountability: We always strive for high-quality care.
Memory Care May Be Best For Your Loved One If…
Cognitive impairments are making independent living dangerous.
Their health is at risk.
Their needs are exceeding your abilities.
They're neglecting responsibilities, commitments, and themselves.
They would benefit from the structure and social interaction community living offers.
Comprehensive Services & Amenities
Our Memory Care residents are a part of our wonderful community, which means they have full access to enjoy our range of services.
Services include:
Assistance getting around the community
Regularly scheduled care conferences
3 chef-prepared meals a day
Housekeeping
Laundry
Communal amenities include:
Big, spacious walkways
Secure outdoor courtyard
Recreational programs and events
Grand bath with whirlpool spa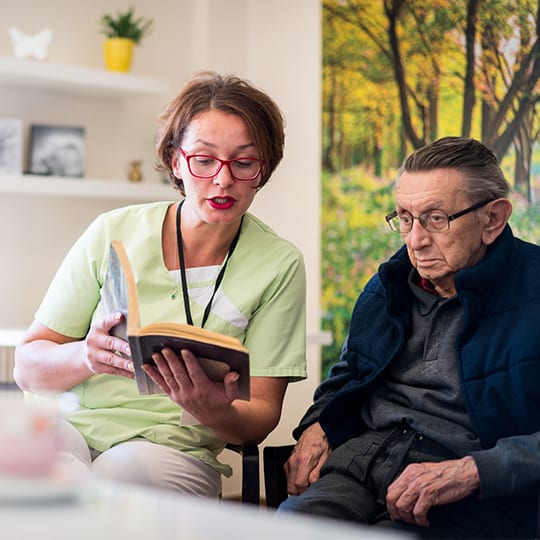 Apartment Amenities
Kitchenette
All utilities (except telephone), including basic satellite
Non-slip floors
Subtle design features for safety and independence
Where to Find Us
You can find us on Mankato Ave beside Walgreens. We're conveniently located near shopping, restaurants, health care and other services you may need.
Email Us
Our Address
765 Menard Road
Winona
,
MN
55987