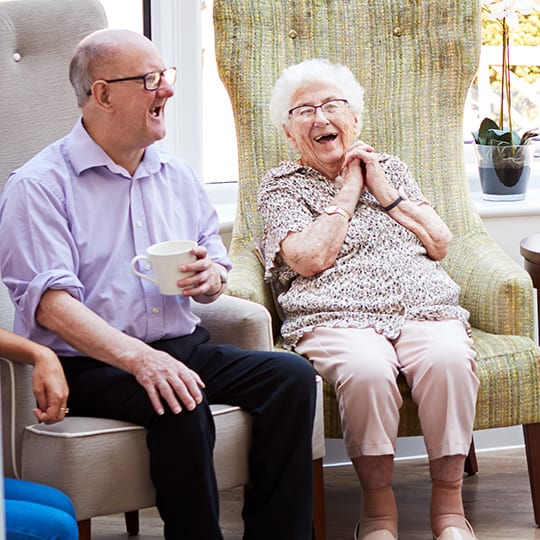 Keeping the Focus on You & Your Happiness
We've developed the services and programs at Sugar Loaf Senior Living to provide an all-encompassing experience for our residents. Our primary goal is to keep you engaged, comfortable, and safe in all aspects, whether you're only staying with us for a few weeks or a few years.
The services we provide have been developed using evidence-based practices to foster well-being and improve quality of life.
Interested in joining our community and seeing everything we have to offer? Please, contact us and schedule a tour today!
Featured Community Services
Inspire Wellness for Life
Inspire Wellness for Life is a program designed to improve the overall quality of life by addressing the person as a whole. The program aims to improve cognition, decrease pain, reduce falls and stumbles, and reduce symptoms of depression.
It focuses on 7 different dimensions of wellness, including:
Physical: Choosing to live a healthy and active lifestyle
Spiritual: Living with meaning and purpose
Social: Interacting daily with friends, family, and the community
Emotional: Recognizing and accepting feelings
Intellectual: Following creative pursuits and inspiration
Vocational: Expressing yourself through your own talents and passions
Environmental: Respecting and caring for your surroundings
Enriching Connections Dementia Certification is a specialized training program for staff to learn how to properly communicate and care for individuals with cognitive impairments properly. Our team has the right tools and resources to give residents with Alzheimer's and dementia the perfect mix of independence and support through this training.
Staff who complete the training learn:
Relationships & Community: Everyone is invited to belong.
Commitment: Our organizational leaders are actively involved and committed to providing incredible person-centered care.
Certification & Training for Staff: All management and Memory Care staff members are certified through the Alzheimer's Association and have completed additional and comprehensive training.
Services: Families and nursing staff work together to help create plans that promote individual preferences, independence, and dignity.
Meaningful Life & Engagement: Promote and maintain the best quality of life for our residents through our Inspire Wellness for Life program.
Environment: Our team is dedicated to making continual improvements so every Tealwood community is a dementia-friendly environment.
Accountability: We always strive for high-quality care.
Our Enhanced Care program gives the support needed to our residents who require an enhanced level of care. Through extra-attentive staff, devices, and daily monitoring, residents experience all the comforts of home with the 24/7 care they may require.
Our Enhanced Care services include:
Advanced respiratory services: Oxygen management, nebulizers, CPAPs, and BiPAPs.
Enhanced medication management: Sliding scale insulin, coordinating lab results, overseeing medication changes, and adjustments.
Altered diets: Including pureed and mechanical soft diets.
Mobility assistance: Using mechanical assistive devices or two-person transfers.
Medication errors and overuse are an ongoing concern in healthcare. But we can mitigate these errors with thorough, quality reviews. At Sugar Loaf Senior Living, we want our residents to be safe, comfortable, and above all, healthy. Our residents get the compassionate care they deserve with the attention to detail they need with our medication management program.
We partner with TotalCare Pharmacy to ensure your needs are met.
For individuals with advanced illnesses, quality of life and superior comfort is our main concern. Our hospice program and compassionate staff at Sugar Loaf Senior Living provide exceptional care for residents throughout the end stages of life by partnering with various hospice agencies. These partnerships give us the knowledge and resources necessary to support our residents and their loved ones in the comfort of their own homes.
We support our medical services with a variety of recreational therapies. These therapies are included in our Integrative Health program and supplement our other care programs:
Essential Oils: These aromatic oils are naturally-derived, and may help promote relaxation. Those with anxiety, pain, or nausea often use essential oils. They can also positively impact memory, mood, and learning.
Hand & Foot Massage: This soothing form of touch helps release tension and stress. We frequently combine our massages with essential oils to create a more immersive atmosphere.
Healing Music: Some rhythms and melodies often put people in a more peaceful state of mind. We choose specific music and schedule live music performances to encourage relaxation.
Guided Imagery: Experience the power of your mind by concentrating on specific mental pictures. These sessions can bring clarity, focus, and relieve anxiety, insomnia, and pain.
Energy-Based Healing Modalities: Reiki and other forms of healing touch are popular among those who seek relaxed, energized states of being. We invite experienced practitioners to our community so they can administer these services.
Our community life staff perform all Integrative Health services under the supervision of trained nurses. If you have questions about how these services might benefit you or a loved one, contact us and speak to someone who can help.
Our Respite and Recovery program is perfect for those looking for short 7 to 60 day stays to let you rest while recovering or while your primary caregiver takes a break. We want to ensure you feel like you're home, so our program includes:
3 chef-prepared meals a day
All utilities, except phone
An emergency response team
Housekeeping
A furnished apartment
Group activities
24-hour onsite staff
Continuous wellness checks
Medication administration
Nurse supervision
Regularly Visiting Physicians
A great quality of life means having quality health care. Sugar Loaf Senior Living is proud to partner with trained physicians who regularly visit you to ensure you feel your best.
For our residents with cognitive impairments, the stability and familiarity of routine are crucial for maintaining a sense of normalcy. The 8-8 program gives residents a structured daily routine without ever sacrificing an engaging and enjoyable lifestyle.
We design thoughtful daily activities so residents remain safe and in control, which has shown to positively affect their state of mind, security, and sleep patterns.
Residents who have suffered illnesses or injuries may have lost essential motor functions that allow them to move around and communicate.
Physical therapy helps our residents regain strength lost due to an injury or illness. Our team focuses on helping them heal and retrain their bodies while always working at a comfortable pace.
Occupational therapy focuses on helping residents regain their independence. We create accessible ways to approach daily activities when they begin to become challenging. By finding effective alternatives, we help our residents avoid falls and injuries so they can do more for themselves.
Speech therapy helps residents who have had a stroke, injury, or illness that has made communicating difficult and frustrating. Our speech therapists help our residents find their voices through vocal exercises that train them to use the right muscles to formulate sounds naturally. We can also help alleviate issues related to swallowing through speech therapy.
Where to Find Us
You can find us on Mankato Ave beside Walgreens. We're conveniently located near shopping, restaurants, health care and other services you may need.
Email Us
Our Address
765 Menard Road
Winona
,
MN
55987