When looking into senior living, there are many options to choose from. If you've heard of a senior living community, who can live in one? While there is no age limit, the level of care you require can influence what lifestyle is best for you.
Continue reading to learn more about who can live in a senior living community and its different lifestyles.
What is a Senior Living Community?
A senior living community, sometimes called a continuing care community, is a single campus dedicated to providing older adults with a place to enter the next chapter of their lives. These Communities provide many different services for seniors depending on their specific needs, such as help with meal preparation, dressing, or housekeeping.
The level of care a resident receives depends on their needs. Senior living communities offer several lifestyles, including:
No matter the lifestyle, senior living communities aim to improve each resident's quality of life, including addressing physical, spiritual, social, emotional, and intellectual needs. Besides meeting your needs, each lifestyle offers several services and amenities for you to enjoy.
Services and amenities may vary depending on the level of care you receive, but they include:
A chapel
A salon
A library
TV lounge
Courtyard seating
A community room for socializing
Private dining
A bistro
A computer room for internet use
Senior living communities can offer everything you may need. If your needs change or you require more help, the care you receive will adjust. Senior living caters to the needs of each individual.
If you're interested in senior living, who can live in these communities?
When is the right time to move into a senior living community?
Any older adult can live in a senior living community, but the level of care they receive depends on the chosen lifestyle. Some people are independent and desire a safe, secure environment with access to activities and meals. Or, someone moving into a community may require more consistent care due to cognitive impairment, such as dementia.
There's no requirement to meet for older adults to move into a senior living community. You can move in independently at first, and when you require more consistent help, the available staff can provide this.
With different lifestyles to choose between, what are they, and what services do they offer residents?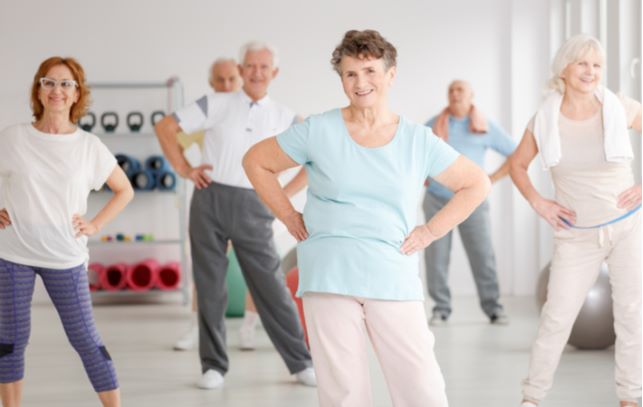 The Different Lifestyles in a Senior Living Community
In a senior living community, there are different lifestyles suited for the level of care you require. The different lifestyles in a senior living community include:
Independent Living
Independent living is ideal for older adults who can live independently but are looking for more freedom from their daily tasks. Help with housekeeping and maintenance lets you make new connections, discover new passions, and have new experiences.
Independent living offers several services for residents. You can enjoy health and wellness programs, restaurant-style dining, and access to 24-hour support staff.
This lifestyle might be for you if:
You'd like help with time-consuming household chores
You're interested in a supportive community
You'd like more time to spend doing things you love
You want a more convenient, carefree lifestyle
You're looking for a place that will adjust to your needs if they change
Assisted Living
Assisted living is perfect for seniors who require some help throughout the day. Daily tasks may be more difficult than normal, or they may take longer to complete. With access to weekly housekeeping and 24-hour staff, you can live worry-free knowing you have the support you need.
Despite having staff nearby, you don't have to lose your independence. You have as much freedom as you'd like while knowing you have help when you need it.
Assisted living may be the right choice for you if:
You're having trouble with your mobility
Your hygiene is becoming a challenge
You're having trouble keeping up with housekeeping
You're missing appointments or forgetting to take medications
Memory Care
Unfortunately, over 6 million older Americans experience dementia, affecting their ability to take care of themselves. Memory care is available for older adults having trouble managing their daily tasks independently.
Memory care offers as much support as residents may need without taking away their independence. Older adults can enjoy their days while having someone ready to help whenever they need it.
This assistance may include help with:
Bathing
Dressing
Personal hygiene & toileting
Assistance eating
Medication assistance
Transferring assistance
While the level of care can differ between each lifestyle, they all seek to support residents with their unique needs, no matter how much they may change. Your lifestyle can adapt without the need to move to a new community.
Experience Living in a Senior Living Community
No matter what lifestyle is best for you, you can make new memories in a supportive community. Final decisions can be difficult, but you can always see things in person first. If you're interested in senior living, book a tour or contact your local community.